Absolutely Invincible Raijin-Oh (絶対無敵ライジンオー, Zettai Muteki Raijin-Ō?) is a 1991 anime television series created by Tomy and Sunrise. It is the first installment in the Eldran Series.
Synopsis
When the legendary Guardian Eldran is badly wounded by the fifth-dimensional invaders of the Jaku Empire while trying to stop their attempt to conquer Earth, he has no choice but to leave the Earth's only salvation - the mighty robot Raijin-Oh - in the hands of the first people he can find... which happens to be a classroom of 5th Graders.
The children reluctantly take up the responsibility only to find that the Jaku monsters invading their planet have become the living incarnations of the things they dislike the most! Can the Earth Defense Class successfully learn to work as a team, overcome their stigmas and defeat the forces of evil while (futilely) attempting to teach Jin how to perform decimal division?![1]
Episodes
Characters
Defense Force
Mecha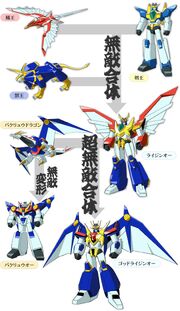 These are the robots which Eldran entrusted to the children of Hinobori Academy before he went away to rest. They can combine to form more powerful mecha if they aren't enough to defeat the enemy.
Music
Production
The anime was directed by Toshifumi Kawase. The writers were Fumihiko Shimo and Hideki Sonoda. The character designs were by Akira Takeuchi. The mechanical designs were by Takahiro Yamada. The production supervisor was Goro Taniguchi (his first major role in the anime industry), and the producers were Kenji Uchida of Sunrise, Shinsuke Kurabayashi of TV Tokyo and Toshihiko Fujinami of Yomiuri Advertising.
Kouhei Tanaka composed the music and the sound director was Akira Yamazaki.
Release
The anime originally aired on TV Tokyo, it also later aired on Kids Station.
On December 29, 2009, Anime Midstream began offering the first DVD volume of the anime series on its website. Volume contains the first five episodes with English and Japanese soundtracks, as well as English subtitles [2].
See Also
References